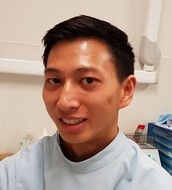 It's out great pleasure to welcome Darren to our team! Darren focusses on creating happy smiles and bringing broken down teeth back to life.
Book an appointment to see Darren today!
Tell us in just a bit more about Dr Darren – where does he come from (is he a graduate of dental school, does he come from an interstate practice, etc).  Why did you bring him into the team – is the business growing well?  Why would someone want to see him?  What does "creating happy smiles" mean? Some of what goes here could come from his personal page, just not the same wording.