BDSc with honours (Queensland)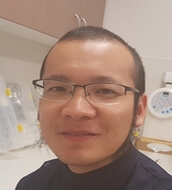 Kex received his Bachelor of Dental Sciences from the University of Queensland and has since worked at clinics in QLD and VIC. He is a firm believer that patients' needs always come first and he strives to make every dental visit a pleasant and relaxing experience.
He focuses on preventative dentistry and believes having regular checkups is the most effective way to prevent teeth decay and gum disease.
Kex enjoys spending time with his family, reading and cooking.